Introduction
The S-17 is an e-cig starter kit designed in the UK by Edinburgh based JAC Vapour. Aimed at beginners, the S-17 aims to introduce vaping to people who are just making the switch away from tobacco smoking. The S-17 is a very simple device with none of the bells and whistles which tend to confuse newcomers to vaping and it is very reasonably priced, too- which should make it attractive to smokers who might be wavering in their decision to give vaping a go. But what makes the S-17 a bit different from most other starter kits is its ability to give new users room for growth, where they can experiment with the S-17's sub-ohm vaping capabilities if they want to, without having to go out and buy another more expensive kit.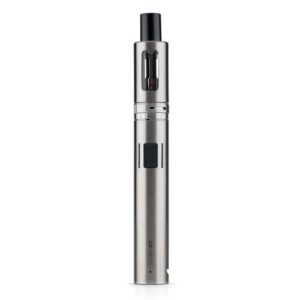 Box Contents
1 x Series S-17 Tank
1 x Series S Battery
1 x 1.0 ohm MTL coil
1 x Micro USB cable
1x Instruction Booklet
Specifications
JAC Vapour Series S Battery Specifications:
Dimensions: 17mm x 79.5mm
Stainless steel
Capacity: 900mAh
Voltage (unregulated)
8v: Green light shows
4-3.8v: Blue light shows
1-3.4v: Red light shows
1v: Red light will flash 10 times, indicating that the battery needs to be re-charged
Connector: 510
Charge time: Approx. 1.5 hours
Resistance range: 0.5Ω
JAC Vapour Series S Tank Specifications:
Dimensions: 17mm x 51.5mm
Stainless steel and glass
Resistance range: 0.5Ω
Adjustable airflow
Capacity: 1.8ml
Removable mouth tip (not a standard 510)
Design and Build Quality
The JAC Vapour S-17 is a very light and compact device which will easily slip discreetly into a shirt pocket or handbag. The S-17 is available in a choice of colours- silver, black or pink. Both the black and pink versions are coated in a silky smooth silicon rubber type of coating which makes them lovely to handle, while the silver version has a gorgeous brushed stainless steel finish. For this review I was given the pink version, which is actually more of a nice deep cerise, rather than a "girly" pink. Each version is equally well built and I dare say the S-17 could easily withstand a few knocks or drops, which we inevitably all do from time to time. The S-17 is a beautifully engineered device, with smooth screw threading and the tank is made from tough pyrex glass. The mouthpiece is easily removed for cleaning and clicks firmly back into place, but I must mention that it does not have the standard 510 connection, however this is only a problem if you want to swap your drip tip and probably won't bother most users. There are two airflow slots at the base of the tank and the control ring has a smooth but firm action, allowing you to easily adjust the airflow exactly to your liking. Overall, the S-17 is very good looking and because it is so beautifully designed and engineered it really makes you feel like you're using a top quality device.
Performance
OK- let's get this out of the way first. One of the very few gripes I have had about the S-17 is that the 1.0 ohm coil does not come pre-fitted in the tank. Now this isn't a big deal for more experienced vapers, but if you're a total newbie and one of those people who never reads the instruction booklet first, then this could be a massive problem. We have had reports from new users who have filled up the tank of their new S-17 and tried to vape with it straight away, but ended up with e-liquid everywhere because they hadn't noticed the coil at the bottom of the box, waiting to be fitted!
With that out of the way, I will say that the coil is a doddle to fit- just remove the tank from the battery, unscrew the base and the coil fits easily into it- do remember to prime the coil with a few drops of e-liquid first, before you go ahead and fill the tank, otherwise you risk burning the wick when you first use it and the horrible burnt taste might be enough to put you off vaping for life! Filling the tank is very easy- just remember to hold the tank upside-down, make sure you don't get any e-liquid inside the central chimney and don't fill it past that level. Re-assemble the tank, screw the battery back into place and you're almost good to go, but it's best to wait around ten minutes for the e-liquid to fully saturate the coil before you start to vape- again to avoid burning the wick and giving you a "dry hit".
The battery is switched on (and off) by giving the power button 5 clicks, when the slim LEDs either side of the button flash three times and then you're ready to go. With the 1.0 ohm coil fitted, I found that the draw was fairly tight and using a mouth-to-lung vaping style, it felt very close to the drag of a cigarette (mouth-to-lung or MTL is where you hold the vapour in your mouth before inhaling into your lungs- exactly the same technique that you use when smoking). For me, it was a bit too tight at first and so opening up the airflow ring, I was able to get the looser and more airy type of draw that I prefer; the taste was excellent and the S-17 put out more than enough vapour to satisfy me, giving a good throat hit too.
One of the big selling points of the S-17 lies in its ability to handle higher powered sub-ohm vaping, which produces bigger vapour clouds and involves a different vaping style- the user inhales directly into the lungs without holding the vapour in the mouth first (direct to lung or DTL). Unfortunately, JAC Vapour only supply you with one 1.0 ohm coil in the kit, so I had to purchase the 0.5 ohm DTL coil separately (JAC Vapour probably thought that supplying two different coils in the kit would be too confusing for a beginner). I eagerly swapped the 1.0 ohm coil with the larger 0.5 ohm DTL coil, filled the tank with a 70/30 high VG e-liquid (Apple Crumble and Custard), let it soak into the coil and then started to vape. The clouds of vapour that the S-17 chucked out really were impressive- actually, I will go even further than that and say that for such a small device, the S-17's vapour clouds were phenomenal! I was genuinely taken aback by the performance of the S-17 when sub-ohming and I also found that I could chain-vape without any problems whatsoever- never even a hint of a dry hit. Remember-I was using a thick e-liquid, but the 0.5 ohm coils handled it magnificently.
The battery of the S-17 is able to detect the resistance of the coil that you fit and alter its power to suit, so with the 1.0 ohm coil fitted, it probably fires at about 14W and then it ramps this up to around 25W when you fit the 0.5 ohm coil. The extra power needed when sub-ohming does drain the 900 mAh battery quite quickly of course, but if you are just using the 1.0 ohm coil then you should be able to get a day's vaping without a recharge (the battery flashes 10 times to let you know when it needs charging). The USB lead included in the kit is top quality; the cable is substantial and is longer than normal, measuring about 1 metre in length. Just plug the micro USB into the slot on the side of the device and connect the charging cable to a suitable 1 amp power supply to charge; conveniently, it is possible to vape at the same time as charging the S-17 because it has a pass-through facility.
You will need to fill the small 1.8ml capacity tank quite often, especially if you are using the 0.5 ohm coil for DTL vaping, but if you are just using MTL, you should be able to get a couple of hours out of it before you need to refill. My advice for any new vaper is to carry a spare battery and a bottle of juice at all times (in fact this is sensible advice for experienced vapers too). If you think that the 900 mAh battery capacity of the S-17 might be a deal-breaker, then maybe consider buying the JAC Vapour S-22 Kit (with its larger 2600 mAh battery) instead.
Verdict
The JAC Vapour S-17 is a very attractive device for newcomers and anyone looking to make the switch from smoking should seriously consider putting this kit onto their shortlist. The performance of the little S-17 has been good enough to impress even the most experienced and grizzly vapers in the Vapable.com office- who are a notoriously difficult bunch to please! The S-17 kit is easy to operate intuitively, making it a perfect choice for a beginner- there are no unnecessary features to learn, you simply fill it with e-liquid, press the button and vape. The coils are brilliant- they do their job perfectly, giving great flavour, throat hit and vapour; perfect for someone who is just quitting cigarettes because the coils and airflow provide such a realistic drag, effectively simulating a cigarette. The fact that you can still use it if you decide that you want to progress to DTL vaping just puts the icing on the cake- all you need to do is swap the coils, so no need to go out and buy a more expensive kit. The JAC Vapour S-17 is designed by a well respected UK company, who seem to have put a lot of thought into making this device as user-friendly as possible.
A couple of niggles- the small 1.8ml tank needs to be filled quite often (but this is the fault of the TPD, not JAC Vapour) and the coil should come pre-fitted in the box. Apart from those minor gripes, there isn't really much not to like about the JAC Vapour S-17 and I have been actively recommending this kit to everybody I know who wants to make the switch from smoking to vaping.
The JAC Vapour S-17 Kit is available here. Replacement S-17 coils are available here.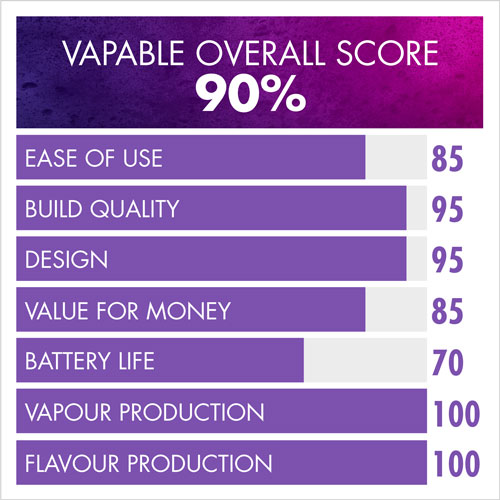 Pros
Simple to use
Excellent build quality
Elegant and stylish design
Supports both DTL and MTL vaping styles with a simple coil change
Great flavour from JAC coils
Excellent vapour production
Good throat hit
Pass through vaping with included USB lead
Lightweight and compact
Cons
Coil should be pre-fitted in the tank
Only comes with 1 coil in the kit – no spares
Tank is a little small