Returns
Faulty Items
At Vapable, we pride ourselves on the quality of the products that we sell. In the very unlikely event that you receive a product that is faulty, then please send an email to support@vapable.com providing as much information as possible about the problem you're having. For clearomisers and coils, please inform us within 3 days and for any other items please let us know within 28 days.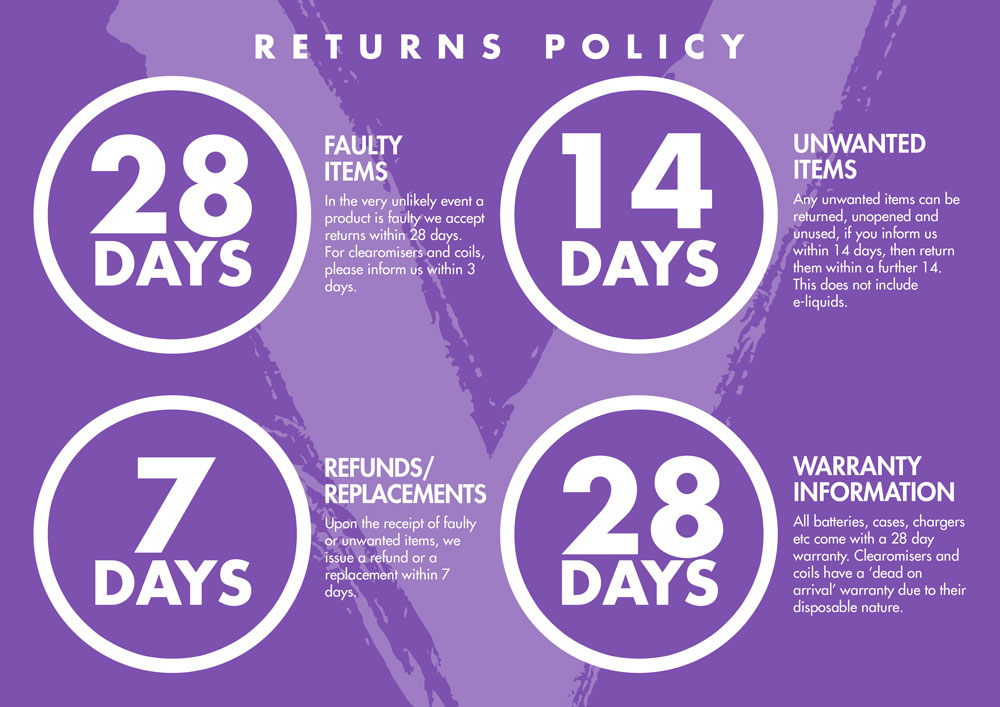 We will usually request the return of faulty goods and we will issue a refund or a replacement within at least 7 days of receipt- but usually we're faster. If we're satisfied that an item is genuinely faulty, we will also refund the cost of your returning it to us.
Please ensure you get proof of postage as we can't issue a refund or exchange for goods we haven't received back. Please also note that we can't refund or replace any misused or mistreated items, or items that show an undue level of wear and tear.
Unwanted Items
If you order something and then decide that you don't want it, you have 14 days after you've received it to let us know, then a further 14 days to return it at your expense. Do please note that this does not include e-liquids. We will then issue a refund within 7 days of receiving the goods, minus any postage costs incurred by us. Please contact us at support@vapable.com before returning any products. All items must be unopened and the packaging must be in its original condition. Please ensure that you get proof of postage as we can't issue a refund for goods we haven't received back. Clearly mark all returns with your name and initial order number.
Expected Lifespan of Products
Clearomisers and replacement coils are disposable products that are expected to last anywhere between a few days and a few weeks, depending on how often you use them. Batteries have an expected lifespan of between 1-6 months, again depending on their usage.
Warranty Information
All batteries, cases, chargers etc come with a 28 day warranty, but clearomisers, disposable vapes and replacement coils, due to their disposable nature only have a 'dead on arrival' warranty.
Liquids cannot be returned for any reason because they are classed as perishable goods. Most importantly, as liquid is ingested we need to protect all our customers from the possibility of liquids being tampered with.
Taste is very subjective- some people dislike flavours that others love, so we suggest that you only order a small amount of any particular flavour at first and then if you like it, you can always order more.