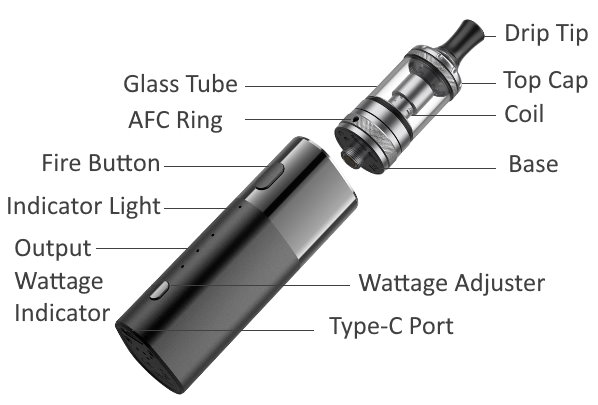 Full Specifications
Size: 2.1cm x 2.9cm x 13cm
Weight: 101g
Output Mode: VW / Bypass
Wattage Range: 13-15W (1.0 ohm), 10-14W (1.8 ohm)
Battery: 1600mah Internal Battery
Includes
Aspire Zelos Nano Mod
Aspire 2ml Nautilus Nano Tank
1.0 Ohm Aspire Nautilus Coil
1.8 Ohm Aspire Nautilus Coil
Spare Glass
O-Rings
USB-C Charging Cable
User Manual

Who is this kit made for?
The Aspire Zelos Nano Kit is a great little kit for Mouth to Lung vaping, which makes this an excellent starter kit for Vaper's that are looking to have a kit that simply works. Although there are a few bells and whistles on this kit, it remains quite modest due to it's MTL qualities.The coils are really very similar, so there's no complicated reasons you should choose one over the other. All of the coil options will get the job done, and as long as you're willing to play around with the wattage levels of your device for a few minutes then you're golden.

Is the Aspire Zelos Nano Kit well designed?
The aesthetic design is a really quite luxurious, sleek, and modern aluminium alloy construction. This may sound a bit space-age, but you can feel the difference between a high quality body, such as this, and a kit of lesser quality. The overall design, considering features, looks, quality, and feel, is very well suited to MTL vapers and beginners.

How long does the battery last?
The battery inside this kit is 1600mAh, a superbly sufficient size for this kit. Which means it will last you all day even at the higher wattage output levels this kit is capable of. The rough estimate of how long the battery will last is 16 hours of vaping, give or take a couple hours depending on your frequency/style of vaping. As a general rule of thumb 100mAh should last about an hour.

Extra Notes
We love Aspire, therefore we stock many of their best products and you can find them there here!
If you're still not sold on the idea of using this particular Kit, we understand, and have more options for you to browse, here!