It was a cold and bitter afternoon in late October. The trees had lost their leaves, which were trodden into the pavement or left in wet clumps in the gutters. My feet kept slipping underfoot as I dodged the cold, dank puddles. The late afternoon sky was dark grey and there was a drizzle of rain in the air as I trudged up the Southport shopping street. I had foolishly forgotten to order my regular supply of e-liquid from Vapable and so I was desperately looking for a vape shop in town so that I could buy more supplies to tide me over the Halloween weekend.
It was half past five on a Saturday afternoon and the town was becoming dead. The last minute shoppers were hurrying for their buses and shopkeepers were pulling down their shutters. It was growing dark and I had begun to give up hope when I came across a dingy little vape shop, tucked away on a deserted side street. There was an ugly gargoyle's head carved in stone above the lintel of the door. It might have been my imagination, but I was sure that it cheekily winked at me as I opened the door.
It was a little, narrow shop and the door-bell pinged with a plaintive note as I closed it behind me. For a moment or so I was alone in the shop and I glanced around. The shop was not very well lit and as I peered through a dense aromatic fog, I could see that this wasn't like any vape shop that I had ever visited before. It looked more like an old apothecary shop. Strange-looking bottles of e-liquid were lined up on its dusty cobwebbed shelves. Some were fashioned into the shape of skulls and contained curiously coloured potions.
As if from nowhere, a man appeared from behind the counter. I took him to be the proprietor of the shop. He was a curious, sallow, bald man, with one ear larger than the other. He had a chin like the toe-cap of a boot and at the end of it was a whispy-haired grey goatee. He wore a long purple cloak and he smelt of aniseed.
"What can we have the pleasure?" he said, as he spread his long, bony fingers on the glass case. I could see strange tanks and elaborate steampunk-styled mods glinting beneath the counter. If HP Lovecraft had been a vaper, this would have been his shop. "I just need some 10ml bottles of e-liquid, please" I asked him, anxiously. "I've already cashed up and was just about to close" he replied "but you're in luck- I have three bottles of liquid here that you really need to try. They're special limited edition Halloween flavours from Vapable"
I was overjoyed. "Will you tell me how much all this comes to?" I asked as I put the bottles in my bag. But when I glanced up again, expecting his reply, he had disappeared. I waited ten minutes, but when he didn't return, I resolved to revisit his shop the following day to pay whatever I owed him.
That evening, I settled down to a nice glass of plum porter and hoped to enjoy my new e-liquids in peace without being disturbed by Halloween trick-or-treaters knocking on my door. I had three clean tanks lined up, and filled each one with eager anticipation. I scribbled down my initial thoughts as follows: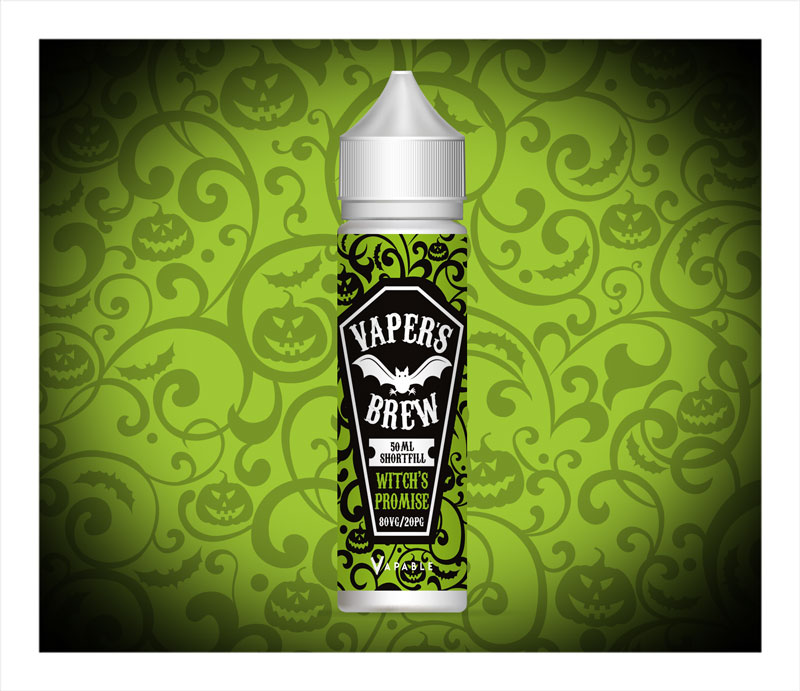 What was this delicious potion? Aniseed and forest fruits? No- not quite. I got wonderful deep and fruity waves of aromatic blueberry with delicious liquorice overtones. But there was more. If I wasn't mistaken, there was some Grape Soda in the mix and I also got a lovely mysterious taste almost like pomegranate, which lingered long after the exhale. Witches Promise is a dark and mysterious elixir, but it tastes more like it has been lovingly mixed by a cute old lady and not an evil witch.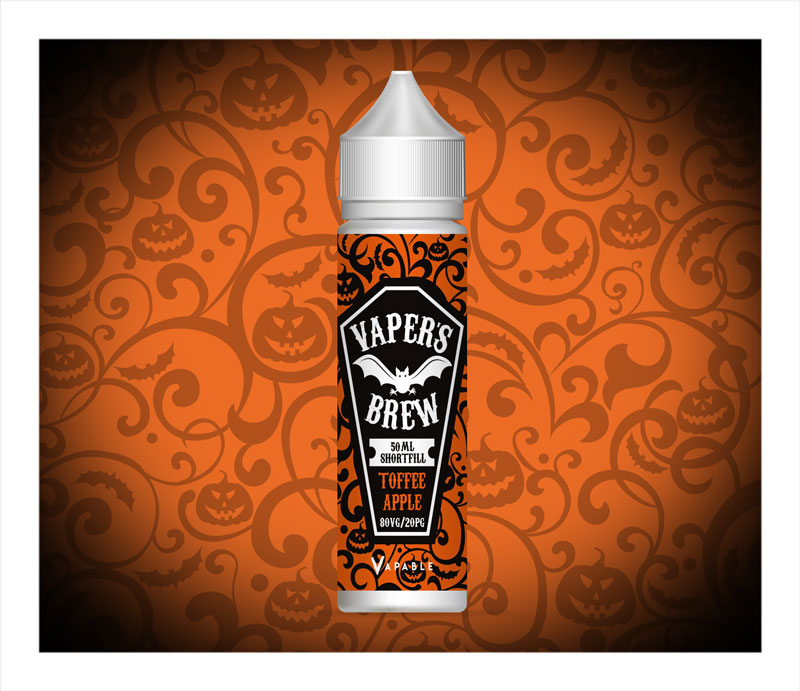 This is the taste of the toffee apples that you enjoyed around the bonfire as a kid. Beautifully soft and creamy homemade toffee, smothering a juicy and sweet red apple. The balance of flavours was perfect and filled the room with its gorgeous aroma. I was enchanted by this delicious e-liquid and vaped the whole tank straight away.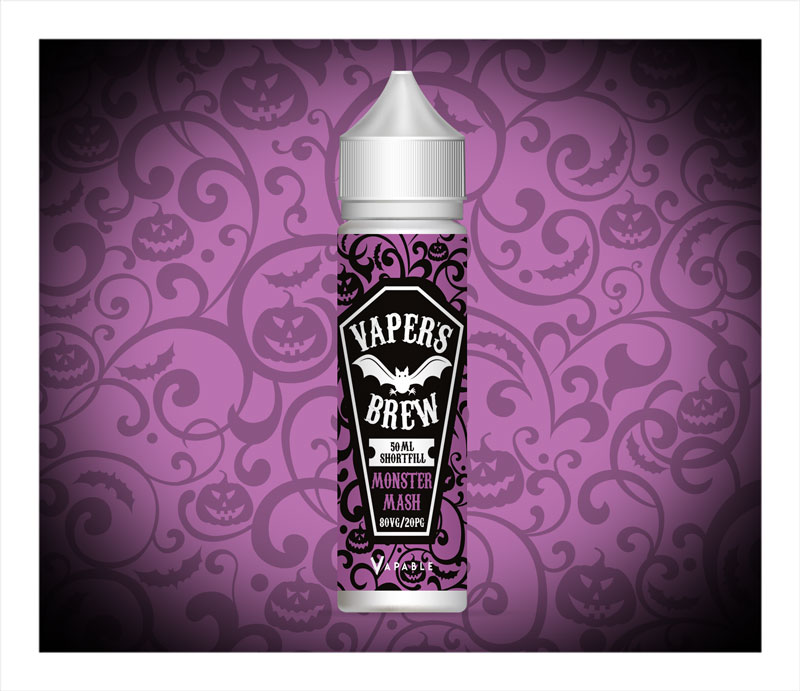 I had some bags of delicious Halloween trick-or-treat sweets to give out to any children who came calling. Monster Mash tasted just like them! It is a lovely mixed fruit flavour, with raspberry, orange, strawberry, pineapple and lemon tastes in the mix. This creates a mouth-wateringly juicy vape, with loads of different fruit flavours. I have a sweet tooth, so this flavour appealed to me instantly.
The following day I made my way back to the shop, intending to give the shopkeeper the money I owed him and to thank him for introducing me to three of the most delicious e-liquids that I have ever tasted. I retraced my footsteps to the side street that I had visited the previous evening, but when I arrived at the shop, I became very confused. The windows and doors were boarded up and by the look of things, they had been like that for many months. I was certain that I had the right shop, because the same ugly stone gargoyle was smiling down at me from its perch above the door. As I walked away perplexed, I swear I heard it snigger at me.