Full Specifications of the VooPoo Argus X Pod Kit
Size: 128x35x30.5mm
Output: 5-80W (3.2-4.2V)
Battery: 1x 18650 (Not included)
Display: 0.96in Colour screen
Resistance limits: 0.1-3ohm
E-liquid capacity: 2ml
USB Type C Charging
Refillable Pods
GENE.TT Chip
Adjustable airflow
Is the VooPoo Argus X Pod Kit good?
Yes. It is good, and for many reasons. It has a great flavour and great vapour production. Need we say more? Ok. The VooPoo Argus X is compatible with all the PnP Coils currently available, which is a nice touch. It has a very comfortable, ergonomic grip, a wide readable resistance range, and USB Type-C Charging! The airflow is very agreeable, allowing you to adjust from very wide air holes to closed holes.
What's in the box?
After it has just been opened, all the pieces are displayed inside the included case. Next to the case are those components laid out. From left to right we have: a very handy micro USB charging cable, VooPoo VM6 0.15 Ohm coil, VooPoo VM1 0.3 Ohm mesh coil, VooPoo Argus X Pod System with a pod already installed, and finally the much-beloved user manual.
Who is this kit for? All user levels.
The VooPoo Argus X Pod Kit is a well-rounded, sleek kit that has the kind of class to fit well into anyone's arsenal. Whether you're a beginner, a seasoned veteran, or maybe looking for a less thirsty e-cig than you currently have, you can't go wrong with the VooPoo Argus X Kit. It simply works to your own strengths, knowledge and comfort. There are no big complicated moving pieces or crazy maths to do in order to build your own coils if you don't want to. There is a selection of stock coils available to you, that will suit any user level.
If you want a carefree experience, to simply fill 'er up and go, you should definitely go for the PnP coil VM6 0.15ohm. It utilizes a low resistance for some of the best flavour you will ever experience from a pod kit. It also boasts an incredibly simple installation method, it'll twist into place very easily. And when that coil is ready to replace, just twist it out, and twist another back in! Easy!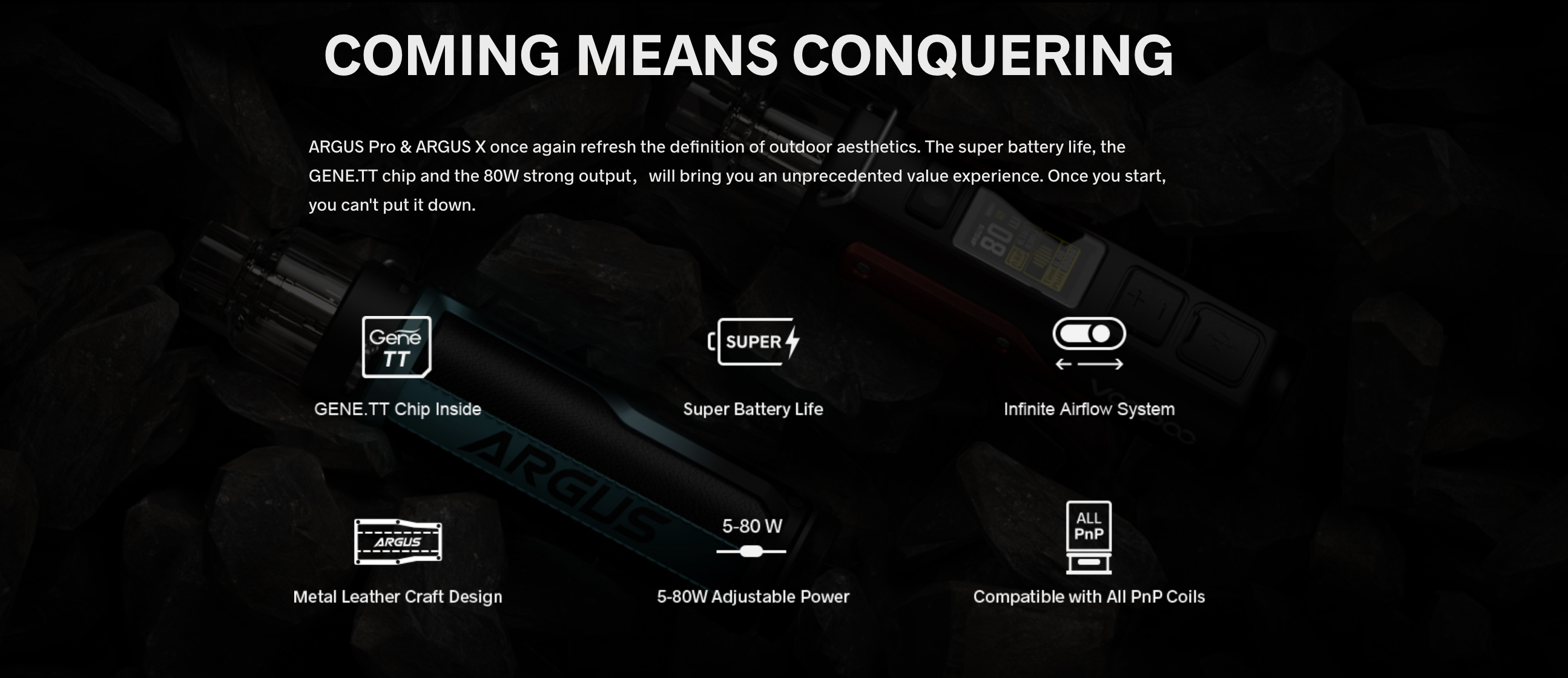 How does the kit look and feel? Modern, and comfortable.
The fine detailing on the exterior is a modern approach to what vaping style should look like. And it pulls it off so well. The era of compact, well-fitted technology is here, and this device is the perfect showcase for it. The quality of this item is showed again in the stylish, and oh so ergonomic design that gives a compelling case as to why more devices should use these techniques, namely, the arc shape and leather grip. Feel the comfort of a team of stylists, building on years of ergonomic work to achieve the most comfortable grip in town. The colourful, 0.96 inches tall LED screen displays, very clearly, the many control functions that this device offers.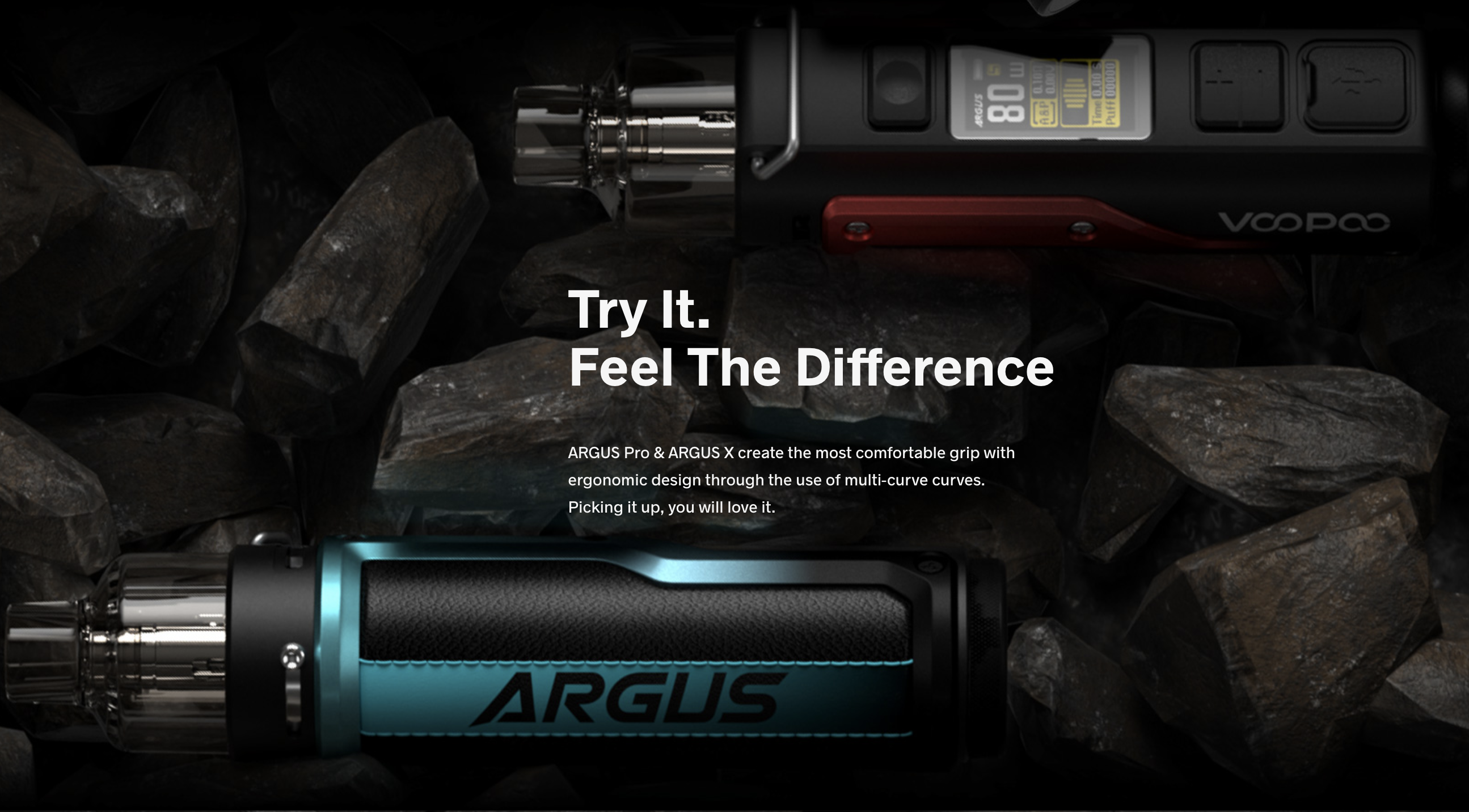 Is this kit easy to live with? Yes.
VooPoo's Agrus X Kit can hold a single 18650 battery (sold separately). Which will allow you plenty of time to sit and have a relaxing time for a while. The battery can be used as a pass-through, meaning that it can be vaped even while it's still on charge! This is especially handy considering the VooPoo Argus X Pod Kit is equipped with a modern, sleek, Type-C Fast Charging capability! So you can leave the 18650 battery in there for very long stints without ever needing to swap out.
However, if you would like to try a new battery, or maybe you're in a rush, and going out for the evening and want to use a battery that already has a full charge, you can easily twist the secure battery knob at the bottom of the device, to take out and then reinstall your favourite battery.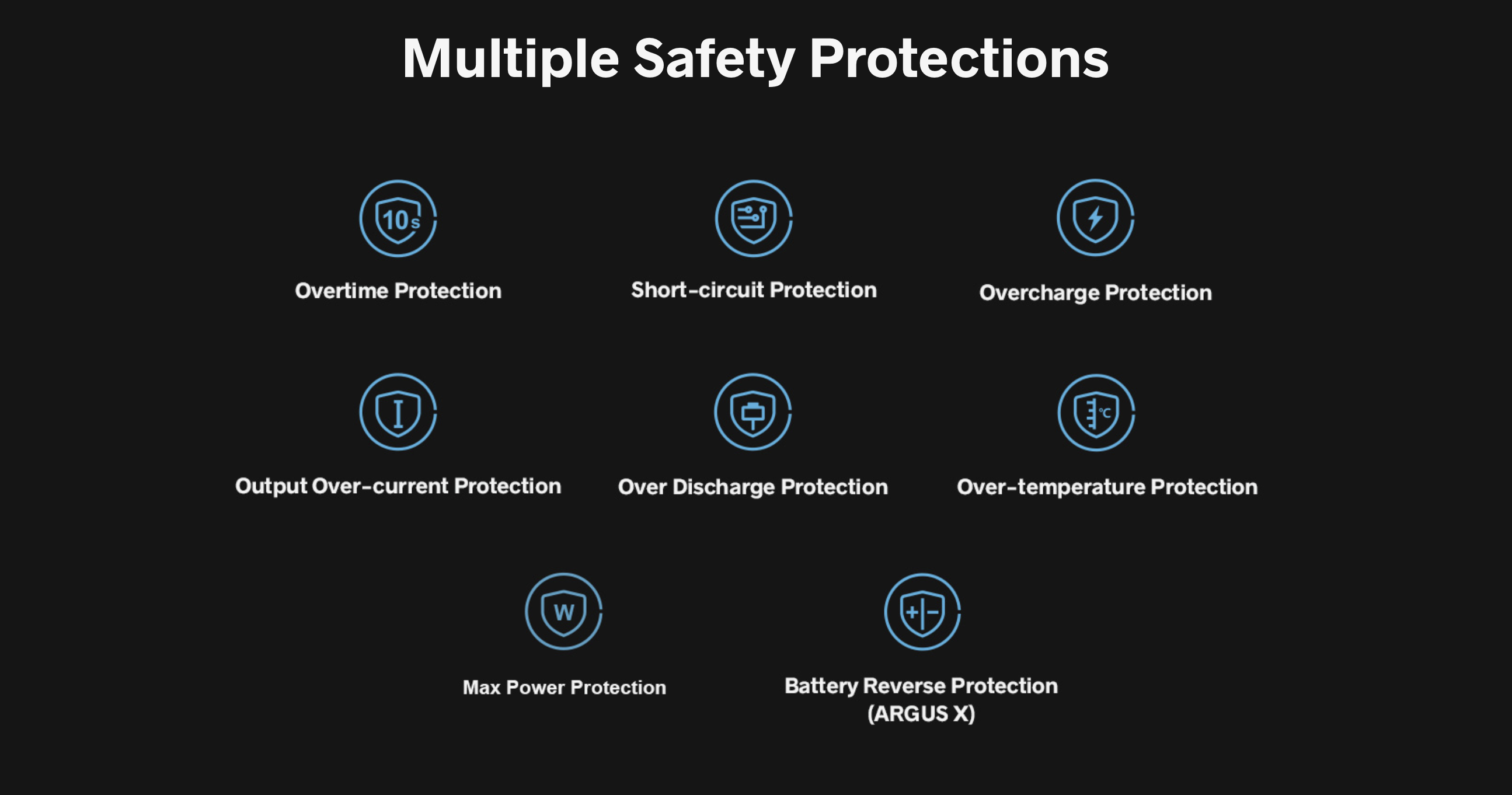 Will this kit adjust to my style of vaping? Yes.
The innovative 'Infinite Airflow System' supports the regulation of any size of the airway. You can get the most comfortable experience through this system no matter which kind of coil or different parameters are set. So whatever style of vapour you want, whether it's a lot of air resistance or pretty much none at all, any kind of combination of power and airflow, and most importantly, you can have it all in from one system!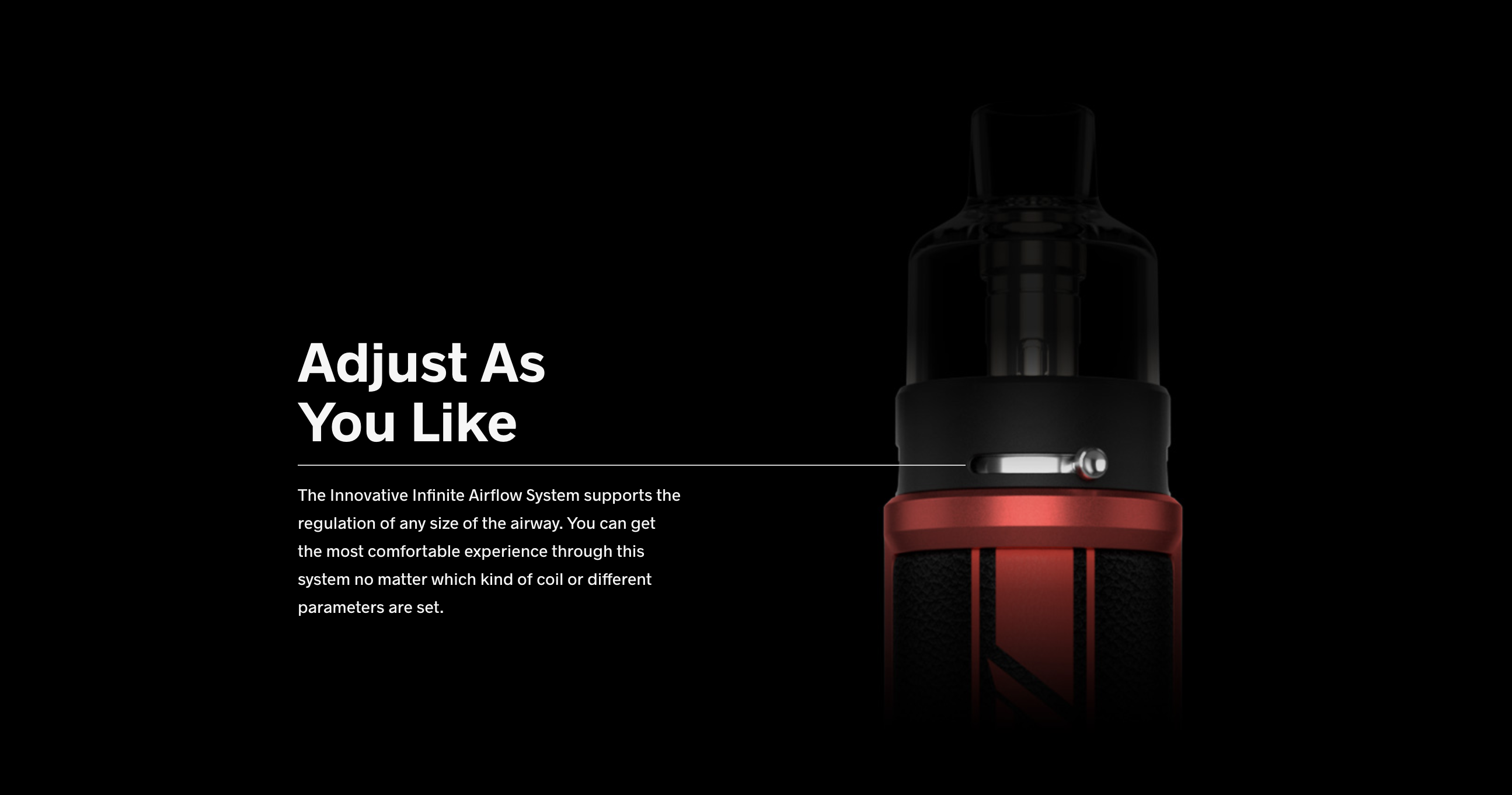 Is this kit modern? Yes.
GENE.TT Chip. Need we say more? Ok… The GENE TT Chip, when paired with the VooPoo Argus X, are a match made in heaven. The chip offers some solid functionality when it comes to different styles of vaping, therefore in this Argus X, you can use Smart Mode, RBA Mode, and regular old, solid and dependable Wattage Mode, giving you the power to choose your style. Enter RBA mode by pressing the fire button 3 times. GENE provides the intelligent identification of coils, ranging in ohms from as low as 0.1 Ohms, up to 3 Ohms! That's not a typo, 0.1 Ohms to 3 Ohms! For this range of resistances, you'll need some power in the front. And you'll be pleased to know that this baby can reach powers of up to 80 Watts! Which is more than enough for any coil you'd like.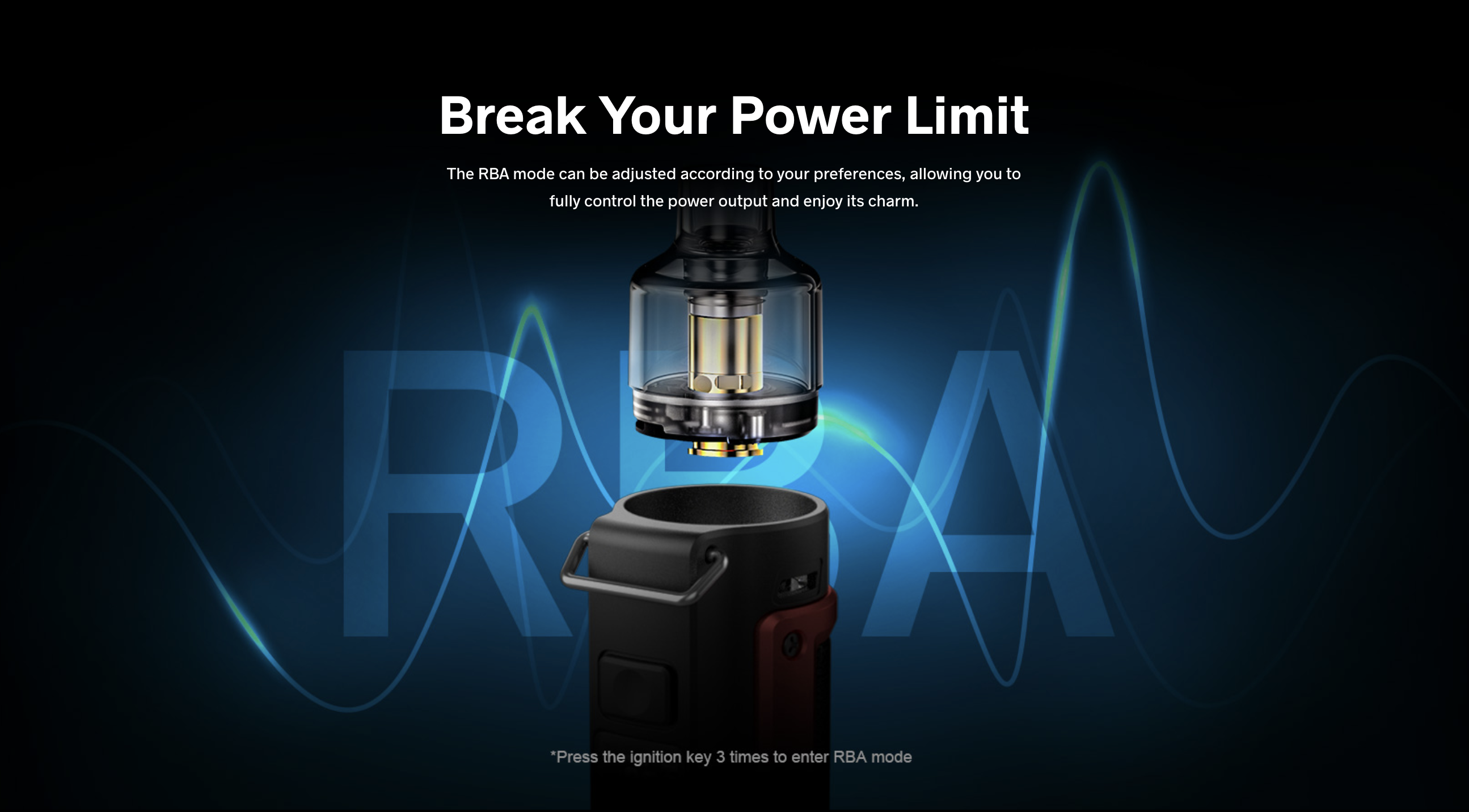 Do the coils live up to the rest of the kit? Yes.
Speaking of PnP coils, there are many fantastic options available to you, in the form of all PnP coils being compatible with the VooPoo Argus X. We'll focus on two great options that we enjoy the most. The PnP VM1, 0.3 Ohm, and the PnP VM6 0.15 Ohm. We'd recommend the PnP VM6 0.15 Ohm, as we feel it provides the very best experience in this VooPoo Argus X Pod Kit. The VM1 is an excellent choice, offering a smooth feel and rugged dependability, but the VM6 really is special.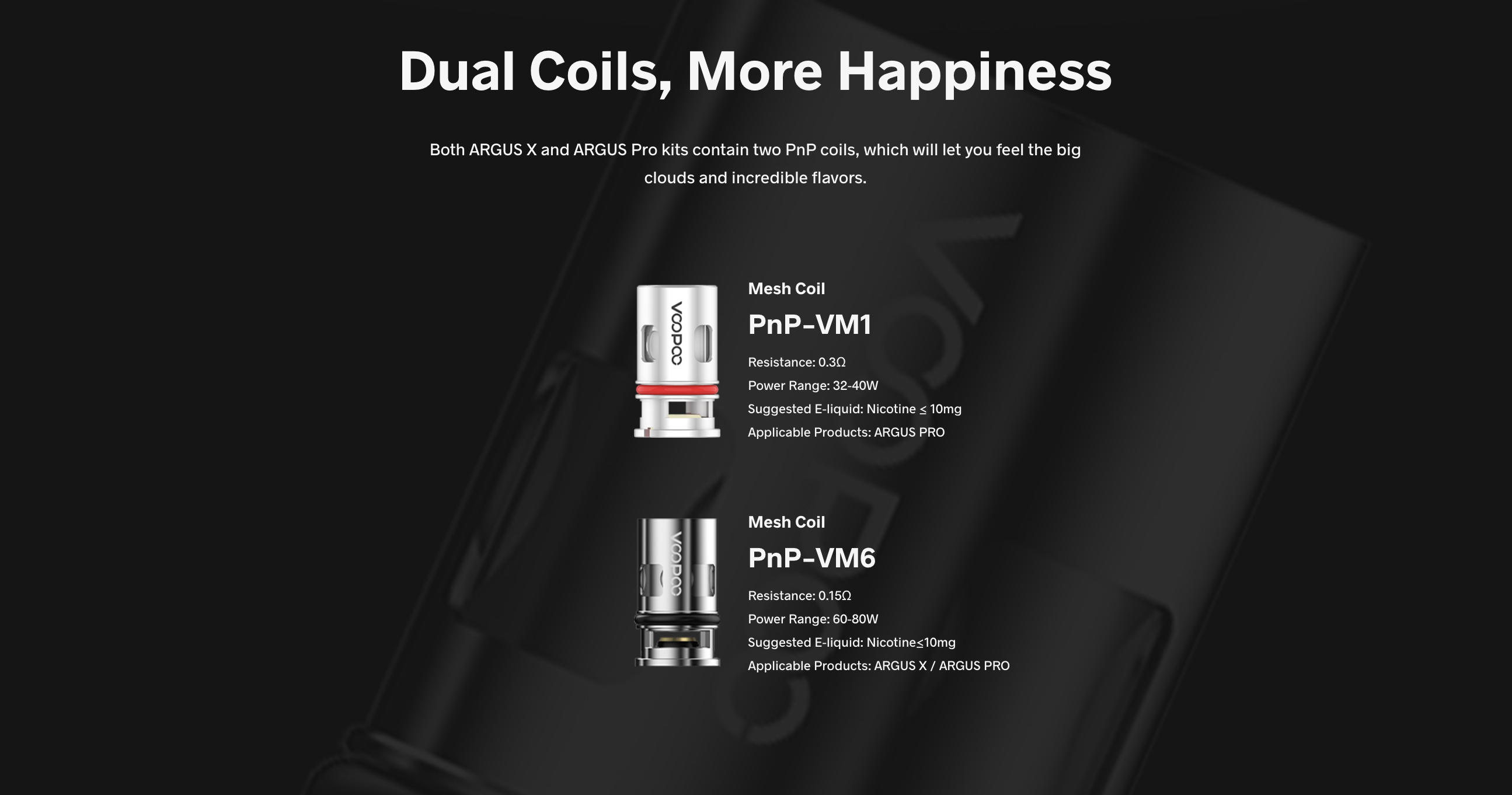 If even after all of these features you're still not ready to buy, we recommend browsing some of our other vape kits. We stock many kits with many features, which you can find here.
If you're specifically looking for a VooPoo kit, great! We stock the best VooPoo kits around, right here, along with many other top kits from other brands!
Maybe you're looking for VooPoo coils? We've got them too!
Did someone say, "VooPoo Replacement Pods"? We've got them handy, right here!